Whenever I have to look up the HTML code for ASCII characters, I have to comb through pages of tables. I am aware of CTRL+F, but still, it's annoying as hell. I could also search for them on Google, but I am ultimately led back gross tables.
Out of sheer boredom and the need to simplify my search for ASCII characters, I decided to create a little search engine. Now, it's an ongoing project 🙂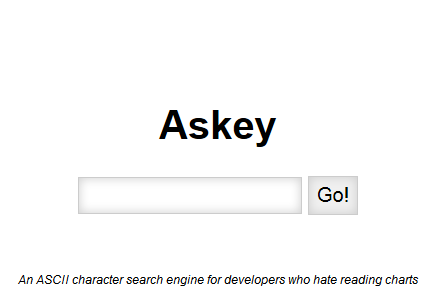 I've added a nifty auto-complete feature. I'm working on adding more fancy jQuery features to "optimize" the experience. The CSS design is pretty minimalist (which I want to keep). I'm open to any type of suggestion!
Happy searching!
Related Posts:
Installing Valgrind on OS X El Capitan
Handling the haters
Re-watching Old TV Series
Be bold, take flight - tryangles!