Markup
March-May 2010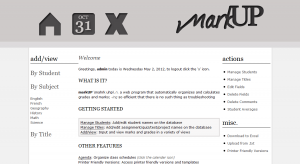 With my project partner, we analyzed the issues of an existing web evaluation system called Web Marks (utilized by the Toronto Catholic District School Board) by consulting with the technical heads of the software.
I designed, programmed (SQL and PHP), tested, and debugged our own system for 3 months. I gained experience with MySQL, FTP and SSH client software, and functional web design. We presented our research findings and program at Toronto
Science Fair (held at the University of Toronto) to university professors, graduate students, and the general public. We were awarded the silver medal award and a special award called  The Ryerson University Applied Science & Technology Award.
A live demo can be accessed.
Teacher login: admin (for username and password)
Student login: student (for username and password)