Schoolshark
June-August 2012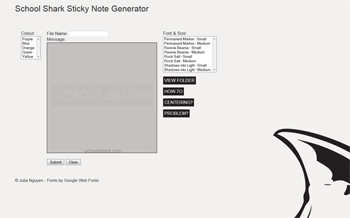 Schoolshark is a Waterloo-based school advice site for college/university students which provides witty and humorous tips. I was employed to create an online generator that creates sticky note images with text and design branding logos.
I utilized TTF image PHP libraries to write a script to generate png images of text input placed over sticky note templates.
View a demo of the generator.
Here are sample sticky notes:
Here are the logos:
Here are the ones that didn't make the cut: