It's Spring! Well, kind of, in Ontario. It's not snowing, but it's still somewhat cold.
If you noticed, my theme has changed. It used to look like this: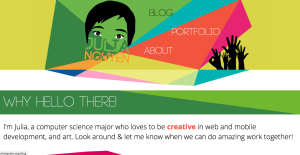 Some components of the old design were too boxy and my biggest critic, my sister Jenny, thought it was too bright and not "Julia" enough. I guess a vector image of half of my face doesn't count. But Jenny was right about it being not "Julia" enough, the design felt incomplete for me. I put the random graphics of the hands because in order to appease that feeling. Some of the colours also reminded me of vomit. Dat forest green.
Being "Julia" enough I guess means before more artsy and daring? So, I'm hoping that this re-design of the Tryangles theme makes the cut. I definitely spent more time on the colour scheme and drawing out the header image. The initial theme was designed and coded in less than 5 hours one sleepless night. Even with this re-design, I feel like Tryangles does something I've never done with previous themes – have bolder colours and be more flat (yeah, I'm jumping on that bandwagon).
I shall continue mucking around with this new design. Who knows? It might drastically change the next day!
Sooo what's new with me?
I have less than a month left at ThoughtWorks. I am actually really sad, I've had such a great time. The work has been good, but the company culture and people have been amazing. There's a lot of like-minded people there and I've been a lot more confident than in most terms to speak my mind. I also realized that I love consulting with a passion. Being able to write code, but also engage with a client is exciting.
I'm also making considerable progress on my mental health project (I'll have to write a post about that). I've also been more confident to talk about it publicly and share my own experiences with mental illness. It feels amazing to find something that ties together what's most important to you.
With this co-op term coming to an end, a study term is coming soon, too soon. It's not that I hate school, it's just that I become a stressful and paranoid mess when I am there. Each term gets better for me, learning wise and grade wise, but I feel like they will never as thrilling than a co-op term. I realized soon after first year that I wasn't cut out to be in academia. It's all good though, I love being in the work place. When I graduate, I think I'll miss my friends more than anything.
I've been a dedicated viewer of How I Met Your Mother, since the very beginning. The older I've gotten, the more parallels I can see with some of the characters of the show. I feel like I'm in a relationship with HIMYM too. Like many, I've stuck with the show when the episodes got dreary and too random with the hope that Ted has a happily ever after. I mean, he did, but of course with your typical life always sucks addenda. But, the fact he ended up with Robin somehow, pisses me off so much. It does make sense, since the majority of the show is spent pining over Robin than it is really getting to know who the mother was. But still, it would have almost heroic if Ted was able to move on from her. I'm looking forward to that boxed DVD set for the alternate ending and cut-out scenes from the finale. AHEM, PINEAPPLE.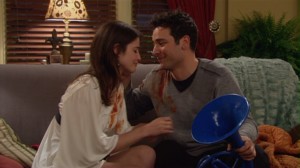 AW HELL NO.
But truth be told, I did tear up *just a little* when Ted was at Robin's window with the blue french horn and she was up there with her many dogs. I also have that the song from that scene stuck in my head. So much nostalgia. Why do we always secretly root for the underdog or the person who gets dumped first?
With HIMYM over, I feel so old right now. There's almost a need to re-evaluate my life choices and think deeply about the future. Aggh, my brain hurts! Anyways, I'm off to make questionable life decisions. Peace.
Related Posts:
Post-grad bucket list
More self-care please
Some personal things on self-harm
Be bold, take flight - tryangles!