It's my last week of work, Christmas is coming – joy to the world! I need to catch up on so much sleep. If you haven't noticed, I revamped the existing site layout. After getting a helpful review from Nela on REV.IEW.ME, I figured it was a perfect opportunity to fix the little nuisances I was too lazy to address when I first made the layout. Thanks again for the tips! It's always difficult to integrate artwork into a layout. As a result, I removed my ballerina illustration entirely and replaced it with a simpler design.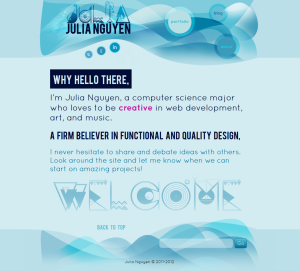 It's a layout in a layout LOL.
Back to the topic of sleep! These last four months have been pretty exhausting. My co-op job isn't too demanding, but commute time and long hours of staring at a computer monitor can really get to you! Yeah yeah yeah, I'm weak. This work term is sorta, technically my first full-time job. Before university, I worked part-time as a piano teacher and lifeguard. Again, weak. Working as a UI developer at Workopolis has been pretty awesome. I got to work to under different supervisors and work in different aspects of UI. I'll blog more about my work experience in the upcoming days… 🙂
Although I'm sad that my time at Workopolis is wrapping up, I'm happy to get some kind of break before the next study term. Here's a list of things I plan to do during the break (other than sleeping)!
Finally go to the Frida Kahlo exhibit at the AGO
Go skating 🙂 I haven't been in years!
Watch the Hobbit like a boss
Play the Sims 3: Seasons for a really, really long time
Finish my Howl's Moving Castle painting and other random sketches
Finish up the UI revisions for markUP
Convince myself I am ready for school again
I'm off to see the wizard now! Happy Holidays 😀
Related Posts:
Post-grad bucket list
More self-care please
Some personal things on self-harm
Be bold, take flight - tryangles!